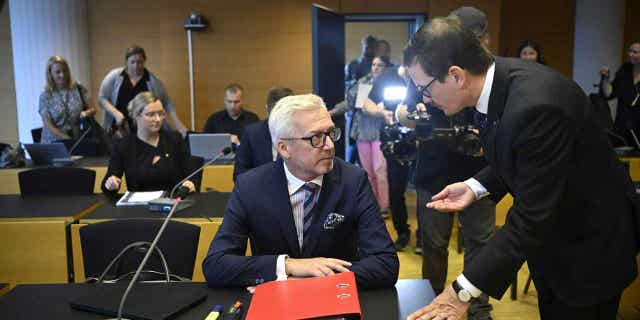 Two investigative journalists for a major daily newspaper in Finland were convicted Friday of revealing national defense secrets in a 2017 article that prosecutors said included information from classified documents, Finnish media said.
The prosecution had asked for Helsingin Sanomat reporters Tuomo Pietilaina and Laura Halmi to receive prison sentences of six months to one year, according to Huvudstadsbladet, another newspaper in Finland. Instead, a judge fined them.
The Helsinki District Court judge also acquitted Helsingin Sanomat's acting manager at the time, Kalle Silfverberg. All three had denied wrongdoing. The reporters have said that the information they published was public, Huvudstadsbladet said.
FINLAND LOOKS AT JOINING NATO WITHOUT SWEDEN AMID PUSHBACK FROM TURKEY
The newspaper did not give the size of the fines but said the verdict would have a bearing on news reporting about military intelligence activities.
FINLAND'S TOP DIPLOMAT SUGGESTS THAT THE COUNTRY MAY HAVE TO JOIN NATO WITHOUT SWEDEN
The Dec. 16, 2017, article in Helsingin Sanomat, one of Finland's largest newspapers, focused on the activities of the Finnish Intelligence Research Center, a military intelligence agency. The story revealed the rough location and tasks of an intelligence unit of Finland's defense forces.
The judge found the article contained several pieces of information that should have been kept secret to protect Finland's security, Finnish broadcaster YLE said.
CLICK HERE TO GET THE FOX NEWS APP
A planned follow-up article was not published on the order of the editor-in-chief after the first story drew criticism.