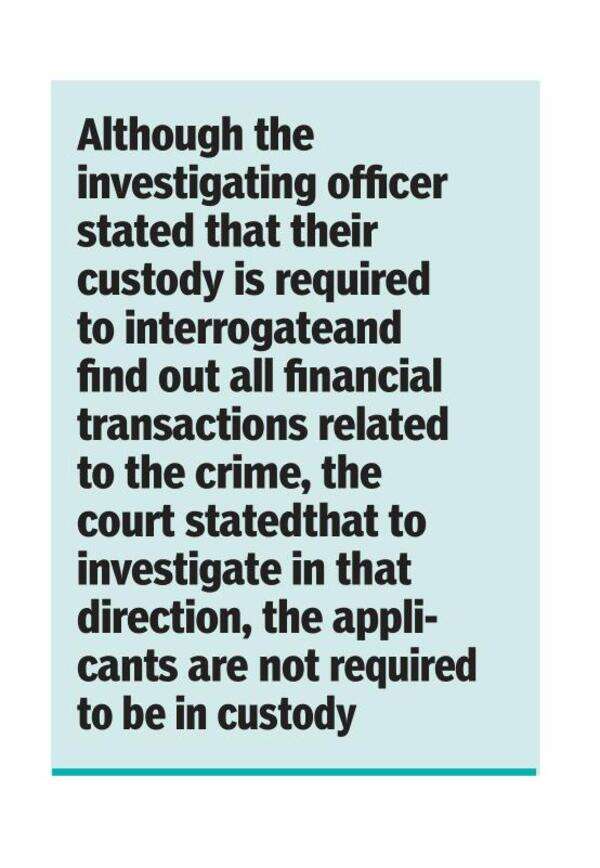 PANAJI: A North Goa court has granted anticipatory bail to pastors of the Five Pillars Christian church, Domnic D'Souza and Joan D'Souza.
"As far as the grounds to deter the applicant from professing and propagating his faith is concerned, there cannot be any such restraint for the same is guaranteed by the Constitution of India," the court stated.
"To my mind, the offence although portrayed to be serious in nature, custodial interrogation is not required in such offences, more so when the applicant has cooperated with the investigation. The search of the premises is also conducted as per the version of the investigating officer. In view of the above discussion, the applicant can be called upon at the police station for the purpose of investigation and her custody is not warranted," addl sessions Judge-1, FTC, Mapusa, Sharmila A Patil, stated.
Although the investigating officer stated that their custody is required to interrogate and find out all financial transactions related to the crime, the court stated that to investigate in that direction, the applicants are not required to be in custody.
The applicants stated that they are pastors of the Five Pillars Christian Church conducting its religious activities in accordance with the right enshrined upon them under Article 25 of the Constitution of India.
They stated that they are practicing and professing their religion for over a decade from the aforesaid church premises wherein people from various sects of life come to surrender to the teachings of Jesus of their own free will and volition.
The applicants submitted that the entire church premises is under CCTV surveillance and that records will show that they are not involved in any illegal activities as alleged.
The police have registered two FIRs against the applicants. One was on the complaint of one Prakash Khobrekar regarding alleged illegal religious conversions in the year 2010 and the second on the complaint filed by one Nikhil Shetye despite the fact that Shetye never ever visited the applicant's premises.