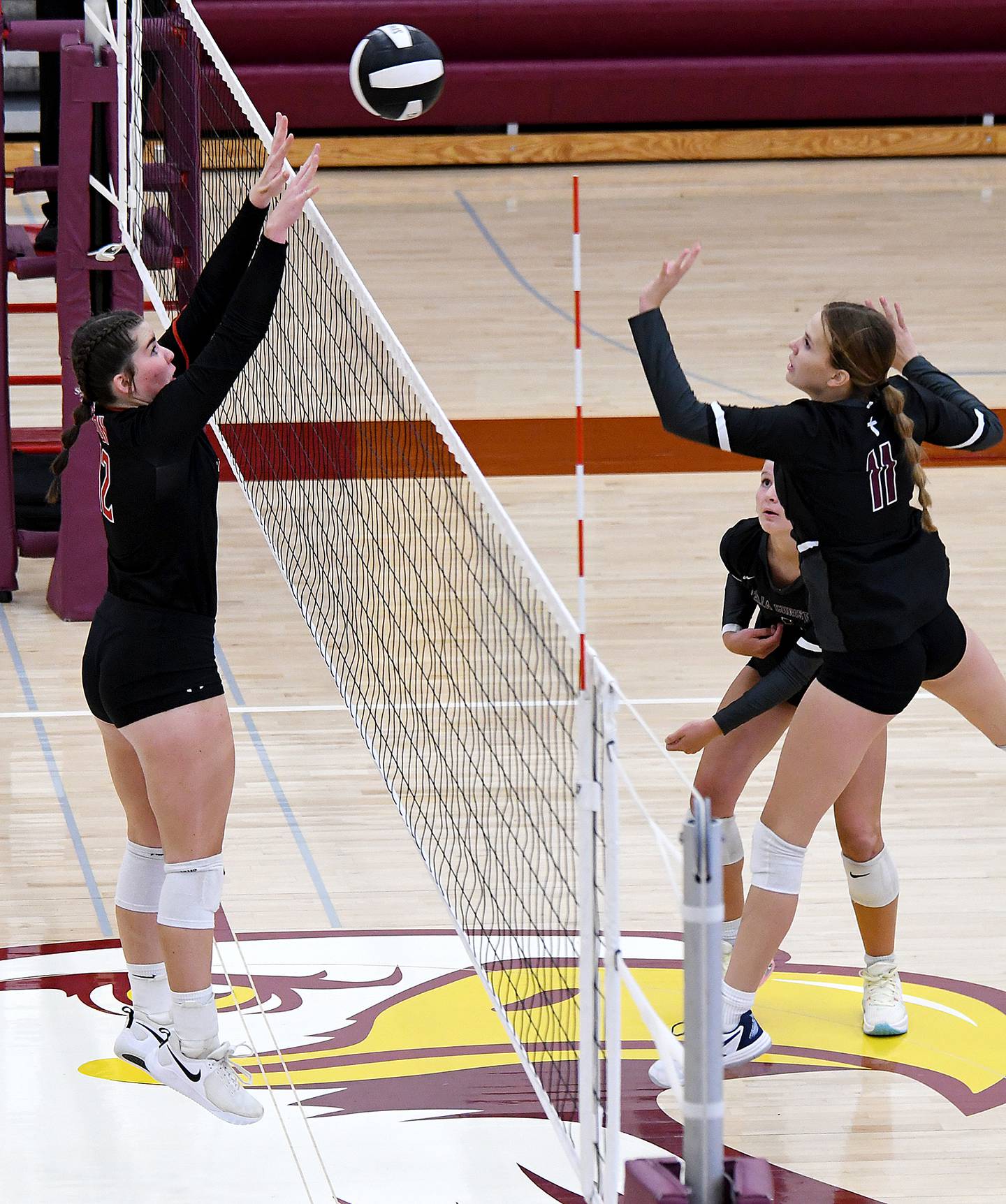 PELLA — Taking away a pair of runs in the third and fourth sets, Newton's volleyball team played right with Pella Christian on Tuesday night.
The Cardinals ultimately couldn't overcome a slow start and those two spurts from the Eagles were enough to dispatch Newton 25-14, 21-25, 25-23, 25-20 during a Little Hawkeye Conference matchup.
"We have had trouble with stopping runs this season," Newton head volleyball coach Heidi Woollums said. "We have also started slow a lot. We are trying to figure out ways they can be more ready when they step on the court whether that's visualizing, listening to music or some pregame ritual they need to do to get themselves ready, we have to figure that out."
The slow start in the opening set resulted in the Cardinals' worst frame of the night. They led briefly at 4-3 after Pella Christian scored the first three points of the match.
The Eagles pulled away from a 5-all tie with a small run and then turned a 9-7 lead into a 17-9 advantage. The hosts pushed the margin to double digits before winning by 11.
Newton (4-12 overall, 0-4 in the LHC) flipped momentum in the second set. Kills by Chloe Swank and Kadance Ahn and then blocks from Ahn and Chloe Rorabaugh pushed the Cardinals in front 5-2 early.
After the Eagles rallied to draw even, Newton went back in front with an 8-1 run that featured kills by Ahn and Delaney Woollums and aces by Swank and Macy Lampe.
"We missed a lot of serves in the first game, too. We took care of our serves in the second game," Coach Woollums said. "It's amazing how much pressure it takes off you when you don't have to worry about those points you are giving away. That was the difference in the first two games."
Ahn registered three more kills down the stretch to keep Pella Christian at arm's length and a service error by the Eagles (13-8, 2-2) gave Newton the second-set win.
"We relaxed, we got the ball to the hitters that we needed to get the ball to, we put the ball down when we needed to and we started digging some stuff up," Coach Woollums said. "We just stood around and let the ball drop in the first game. We started getting on the floor in the second."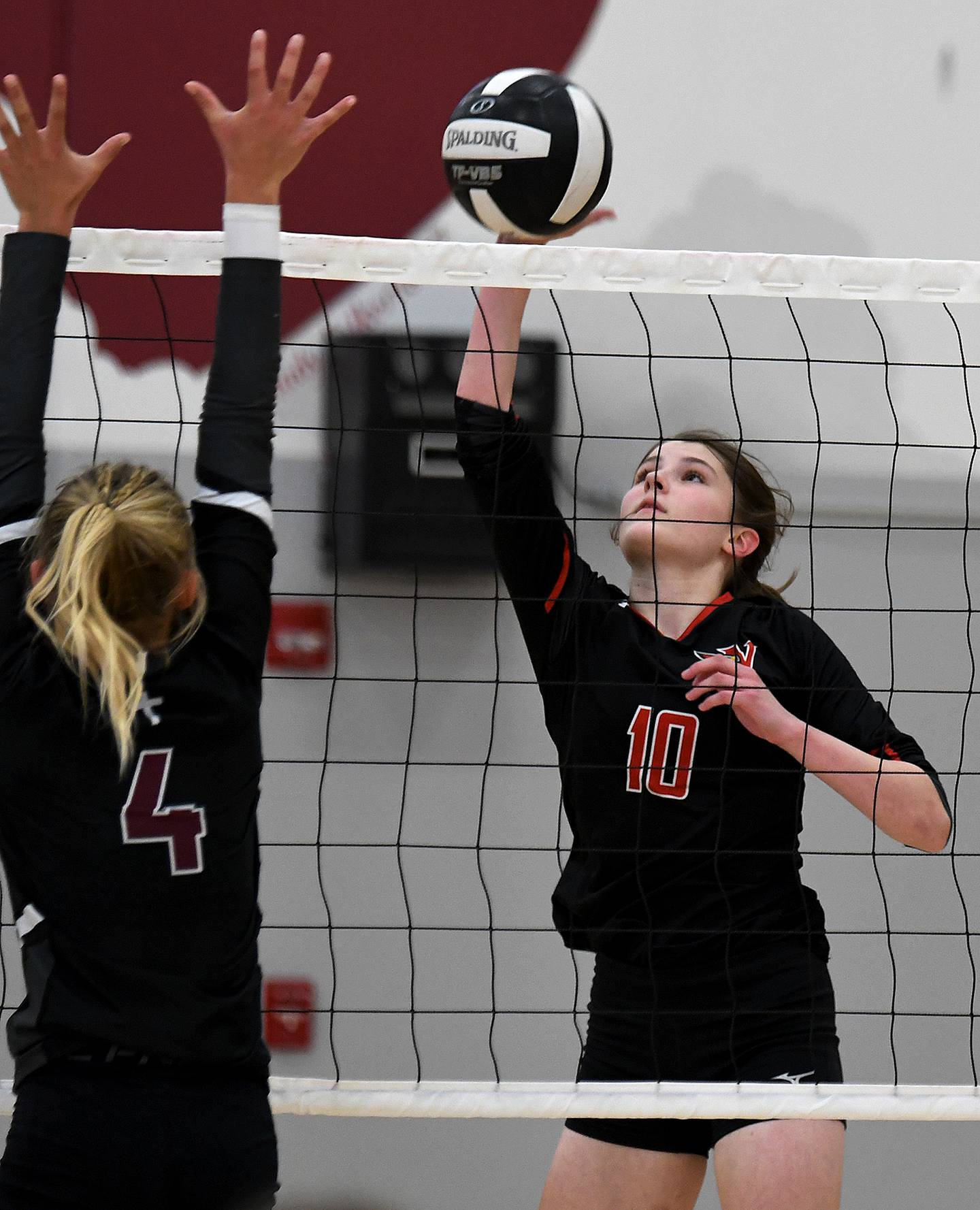 The Cardinals held their own early in the third set. Kills by Ahn drew Newton within one point multiple times and kills by Lampe and Delaney Woollums pushed Newton in front.
The set stayed close until Pella Christian's 7-0 run was too much to overcome.
The Cardinals rallied behind multiple kills from Ahn and Delaney Woollums and another Swank ace closed the gap to 22-18. Newton eventually got within 24-23 on a Rorabaugh block, but a service error allowed the Eagles to go back in front in the match.
Pella Christian's 5-0 run in the fourth set came early and put the Eagles in front 7-3. Newton played catch-up the rest of the way.
The Cardinals got within 12-10 on a combo block by Ahn and Rorabaugh. They also drew within 14-12 and Delaney Woollums put down a kill to make it 16-14, but Coach Woollums called timeout after the Eagles extended the margin to 19-14.
A 5-2 run that included a Hailey Sumpter block and a Swank bump improved Newton's margin to 21-19, but Pella Christian scored four of the next five to close out the victory.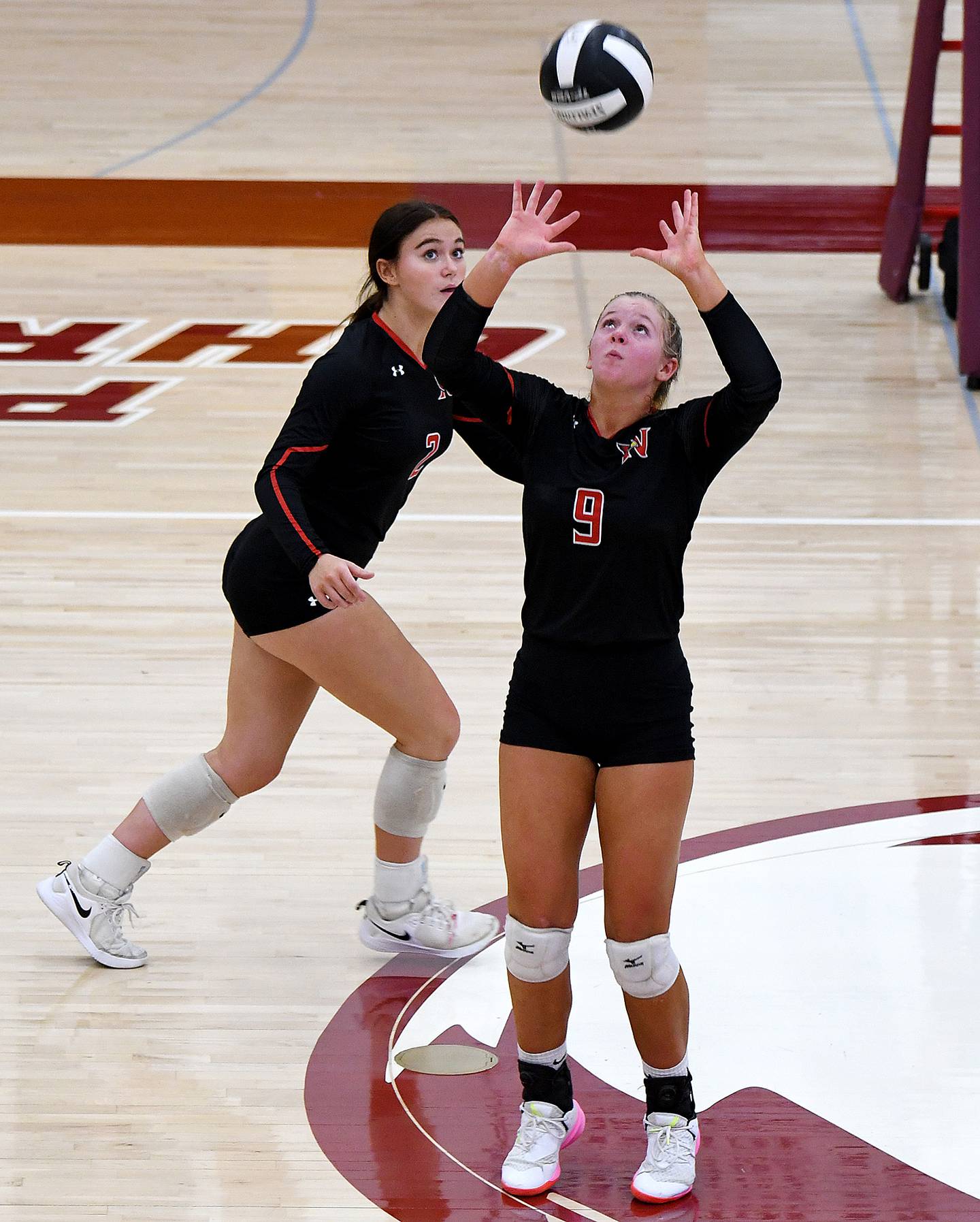 Coach Woollums thought her team passed the ball well off the Eagles' serve and also blocked well at the net against Pella Christian's quick offensive attack.
Newton finished with 28 kills and 13 blocks. Rorabaugh registered a career-best six blocks, Ahn had three blocks and Sumpter collected two blocks.
"We have worked on blocking a lot. It showed tonight. (Rorabaugh) had a lot of blocks," Coach Woollums said. "That quick offense they run is hard to defend. We don't see that all that much."
Ahn finished with a double-double, tallying 15 kills and 17 digs. Delaney Woollums collected seven kills, seven digs and two aces. But no other Cardinal had more than three kills.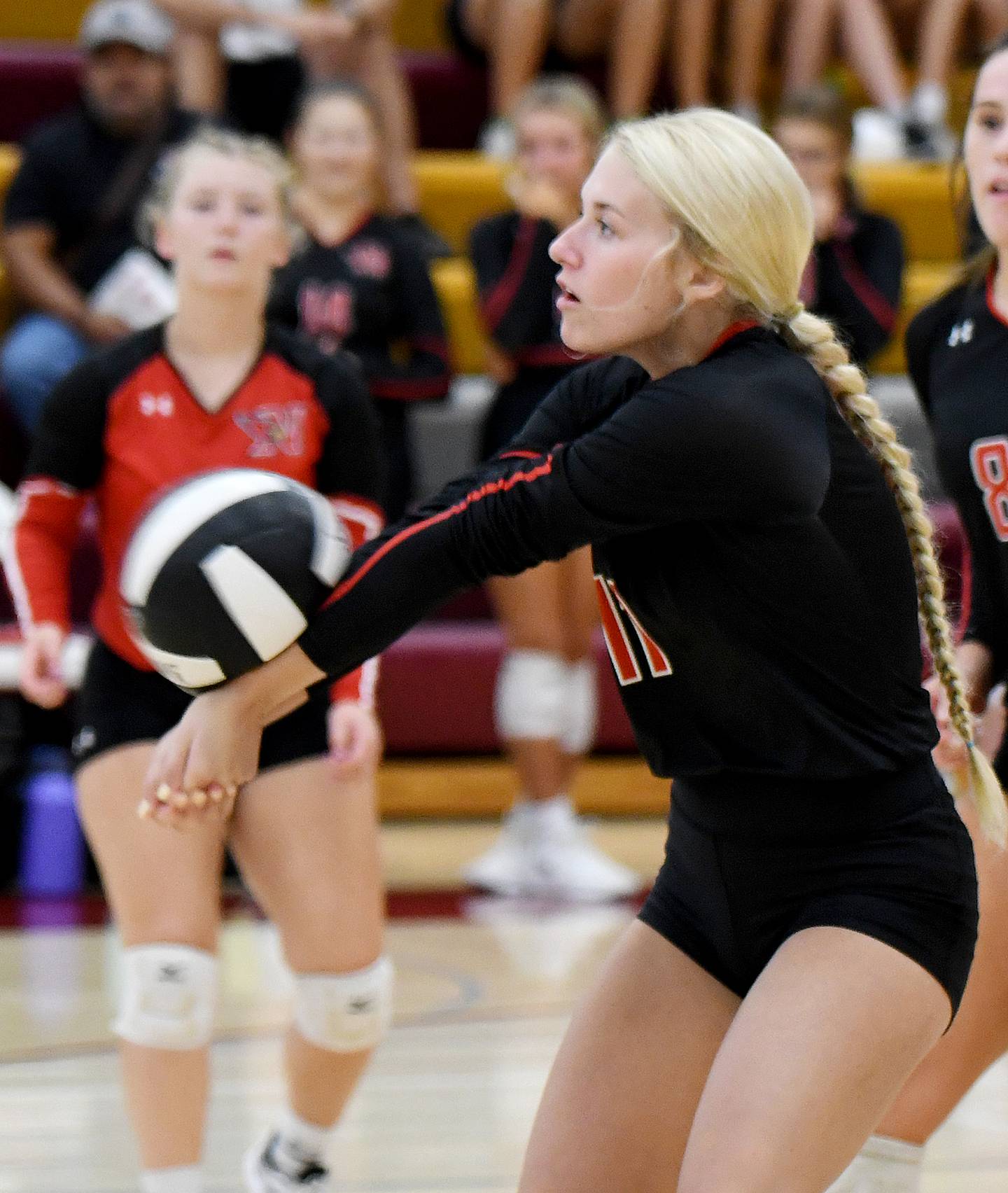 The Eagles recorded 43 kills and seven players had at least four. That depth and balance were big factors in the home team's win.
"She can terminate the ball and put it down. Some of the others just don't have the confidence she has," Coach Woollums said about Ahn. "That confidence comes off in tipping the ball or rolling the ball instead of hitting it. They don't quite have the mentality of hitting through the blockers and putting the ball down."
Lampe finished with 10 assists, seven digs and three kills, Emily Wermager registered 14 assists and four digs and Swank tallied 16 digs and two aces. Audrey Rausch chipped in two digs.
The Cardinals were 73-of-80 with six aces. The Eagles served 79-of-95 and finished with eight aces and 12 blocks.
Chloe Huisman led the Eagles with 35 assists, five kills, eight digs and three aces and Ema Zula collected 11 digs and eight kills.