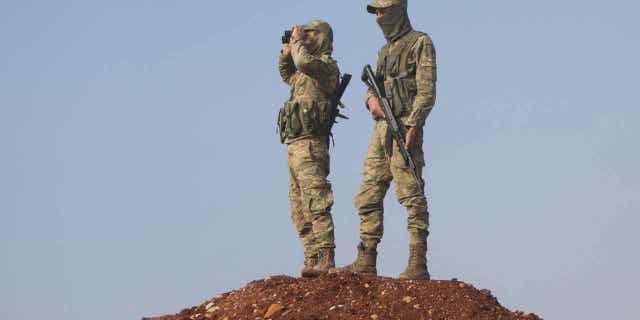 Syrian Kurdish-led forces captured a local commander of the Islamic State group in eastern Syria as part of an ongoing operation targeting sleeper cells in the city of Raqqa, the U.S.-backed forces announced Thursday.
The commander served as the chief of the extremist group's faction for Raqqa and was among the 68 militants detained in the operation, the Syrian Democratic Forces said.
The operation started earlier this week, in response to a December attack by IS that targeted military and security buildings in Raqqa and killed at least six Syrian Kurdish fighters. A Kurdish commander, Mazloum Abdi, said they had indications of "serious preparations" by IS for attacks.
'KAMIKAZE' DRONES ATTACK US, COALITION FORCES AT SYRIA OUTPOST; NO AMERICANS INJURED
The Syrian Observatory for Human Rights, a Britain-based opposition war monitor, said IS militants also targeted a military intelligence prison holding some 200 militants in the December attack.
IS lost all territorial control in Iraq and Syria in 2019, following a yearslong U.S.-backed campaign that defeated the so-called caliphate, where Raqqa was once the IS de facto capital. However, militant sleeper cells persist and have since killed scores of Iraqis and Syrians. Syrian Kurdish and U.S. forces frequently conduct raids targeting IS sleeper cells in northern and eastern Syria.
The captured IS commander was identified as Atallah al-Maythan. Syrian Kurdish forces said he headed the militant group's operations across Raqqa province, and allegedly "confessed to his involvement in planning and leading terrorist acts," extorted money from residents in the area and kept IS sleeper cells in contact.
EGYPT'S TOP RELIGIOUS INSTITUTION CALLS FOR BOYCOTT OF SWEDISH, DUTCH PRODUCTS OVER DESECRATION OF THE QURAN
Some 5,000 Syrian Kurdish-led fighters are involved in the operation, and have already raided some 80 locations, their spokesperson, Farhad Shami, told The Associated Press. The U.S.-led coalition was providing air support, reconnaissance, and gathering intelligence, Shami added.
This is the second recent operation by the U.S.-backed forces in Syria. In late December, the Syrian Kurdish-led fighters targeted IS cells cells in al-Hol and Tal Hamis, following a surge in militant attacks.
CLICK HERE TO GET THE FOX NEWS APP
The U.S. Central Command said that 215 militants from the Islamic State group were arrested last year and 466 were killed in Syria. There are roughly 900 U.S. troops in Syria.