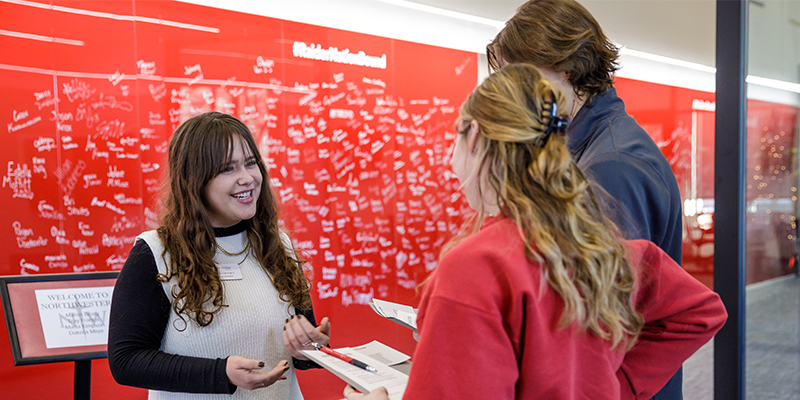 Ah, fall … The season of school start-ups, Friday night football, corn mazes and all things pumpkin spice. Fall is also an ideal time to experience a college campus at its best: buzzing with students! Once you've scheduled a visit, check out our guide of things to see and do while you're there.

Home sweet home

Your college pick could be your home for the next four years, so it's important to visit campus and explore firsthand. A tour will likely be the first item on your visit schedule, so ask your guide to see the places where you plan to spend your time.
Bookworm? Scope out the best study spots at the library. Athlete? Visit the facility where you'll train and practice. Social butterfly? Find out where students like to hang out (it's usually near food—or coffee) and don't be afraid to say hi.

Number one fan

What better way to experience student life than joining in the fun? Ask your admissions counselor about upcoming events and see if you can schedule your visit to coincide with an athletic event or theatre production. If you're musically inclined, you may want to visit when the band or choir are performing.
Admissions visitors to Northwestern College can attend theatre productions, music concerts and athletic events for free. Students can also attend a rehearsal or team practice, audition for a
music or
theatre scholarship, or meet with a coach.

Day in the life

If you haven't already, tell the admissions office what major(s) and co-curricular activities you are interested in. You may have the opportunity to attend class, meet with a professor from the program, or connect with a college student who shares your interests.
Be sure to grab a bite at the cafeteria or campus coffee shop (Warm Cookie Wednesday is an essential stop for visitors to Northwestern!), and if the option is available, see if you can stay overnight in the dorms. Spending the night with a current student is a great way to get a sense of residence life and what students do after class. (Late-night food runs or Netflix watch parties, anyone?)

Faith in practice

When visiting a Christian college or university, carve out time in your visit to attend chapel. Not only will it give excellent insight into the college's vision for faith and learning, but it will also demonstrate students' commitment to campus ministry, the chaplain's style of leadership, and how messages are tailored to college students. Taking 30 minutes to pause and worship might even give you clarity on where God is calling you next in your educational journey.
At Northwestern College, our student body
worships together several times each week. Our student-led, contemporary-style service—Praise + Worship—is held Sunday nights, while our Tuesday and Friday chapels feature messages from leading voices in the global church and from among our faculty, staff and students.

Crunch the numbers

A campus visit is also a good time to learn more about college costs, scholarship opportunities and potential loan options. College is an investment, but most schools are committed to making tuition more affordable. It's why Northwestern guarantees every accepted student a scholarship or grant of
at least $10,000/year. A high GPA paired with outstanding test scores might make you eligible for even more. Whatever your family's financial situation, meeting with a financial aid expert can help answer questions about the payment options that are right for you. 
As you plan your campus visits this fall, we'd love for you to make a stop in Orange City, Iowa, to experience Northwestern College for yourself! Schedule an

individual visit 

or sign up for a
Raider Day

, our group visit experience.